Join the Start SMART NY campaign in Albany on Tuesday, May 8th for a day of action as we demand marijuana reform that centers social, racial, and economic justice.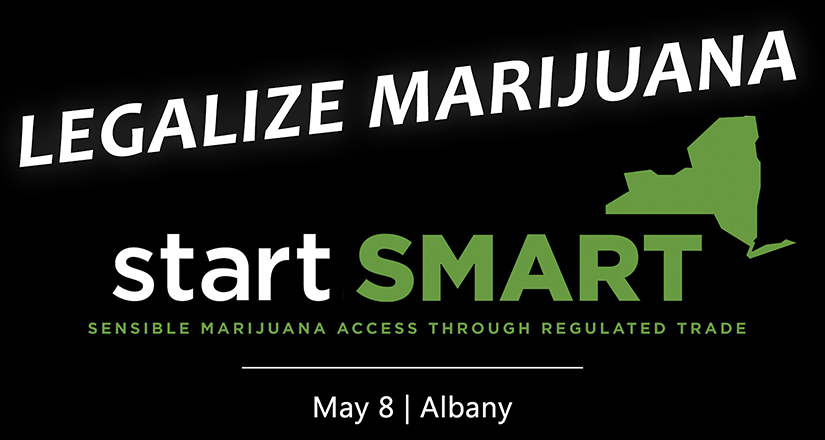 Albany, New York | May 8th
Transportation will be provided from NYC, Buffalo, Rochester, and more – buses will be leaving @ 7 am
RSVP here:
For more information, please contact Chris Alexander at calexander@drugpolicy.org
Over the last twenty years, the enforcement of marijuana prohibition has devastated communities across the state of New York. It has been a tool for the hyper-criminalization of young people of color and has been the justification for unconstitutional policing practices. All of this has come at a great human and financial cost--the Start SMART NY campaign believes it is time to find another way.
Start SMART NY – Sensible Marijuana Access through Regulated Trade – is the campaign dedicated to ending marijuana prohibition in New York. We believe that it is time to stop the ineffective, racially biased, and unjust enforcement of marijuana prohibition and to create a new, well-regulated, and inclusive marijuana industry that is rooted in racial and economic justice.
Creating a legal marijuana market in New York means we can better restrict minors' access to marijuana, increase accessibility for those with medicinal needs, and reinvest in communities most harmed by prohibition.
Ending marijuana prohibition in New York will combat the hyper-criminalization of communities of color and provide new opportunities for social and economic advancement.
Establishing a legal market for adult marijuana use in New York and creating a system to tax and regulate marijuana will put state tax dollars to better use, create new jobs, and generate millions in tax revenue.
The War on Drugs: From Prohibition to Gold Rush
This video, narrated by Jay Z, is part history lesson and part vision statement. Jay Z maps the devastation caused by the war on drugs and raises important questions about economic equity in the emerging above ground marijuana industry.
We are working to end prohibition in New York and establish a well-regulated and inclusive marijuana industry -- one that will create new jobs, foster small businesses, and generate millions in tax revenue. These funds will be used in part to reinvest in communities that have been most harmed by marijuana prohibition.
Do you want to encourage New York state to end prohibition and establish a legal, regulated market for marijuana?